Stallion 51 – Fulfilling Bucket List Dreams and making Mustang Memories
 Stallion 51 is known world wide for aviation excellence specializing in rare, high end-high horsepower historic aircraft built on the passion for the P-51 Mustang; fulfilling bucket list dreams and making Mustang memories.
 Through the decades, Stallion 51 and their iconic P-51 Mustang "Crazy Horse" have become synonymous with excellence and the place to go to check off an item on your bucket list. The Stallion 51 flight experience is like no other. Each flight, whether in one of Stallion's dual-cockpit, dual-control Mustangs or their historic T-6 Texan or L-39 Turbo Jet is unique and tailored to the dreams and goals of the person who comes to fly with Stallion 51.
Stallion 51 offers pilots and non-pilots the rare opportunity to experience the legendary P-51 Mustang, the historic T-6 Texan and L-39 Turbojet in flight. Hands-on orientation flights include pre and post flight briefing, video recording of the flight, photo and certificate. Stallion 51 has been a leader in WWII aviation for over 25 years offering high quality orientation and check-out training flights. ALL Orientation flights (P-51, T-6 and L-39) include; pre-flight briefing that tailors each flight to the individual's experience, expertise and expectations; preflight walk around and cockpit orientation; hands-on flight that encourages the individual to do 95% of the flying, followed by a post-flight briefing reviewing the multi-camera video that captures all of the action during the flight. Certificate of completion, autographed photo of the aircraft flown and log book entry, if applicable. Stallion 51 Corp. is located at Kissimmee Gateway Airport (KISM). Additional flight information is available at www.Stallion51.com, (407) 846-4400.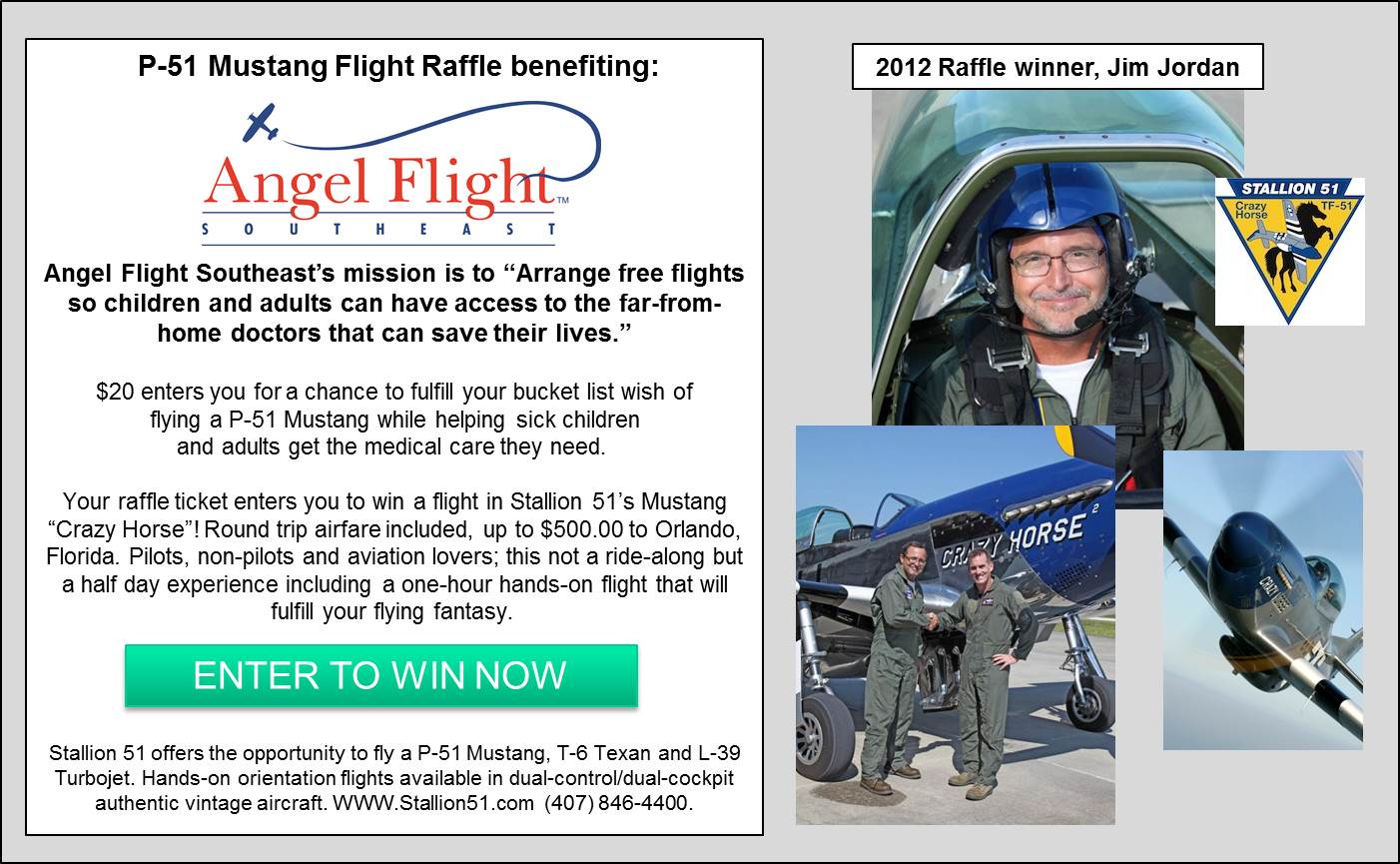 Official rules
 1.     All donations for non-winning raffle tickets may be tax-deductible for the respective entrants: Tax ID: 59-2697223. Consult your tax representative for details. It is the sole responsibility of all winners to report all raffle winnings in accordance with federal, state, and local laws and regulations.  A tax letter on letterhead can be emailed at your request after the drawing.
2.     Tickets are $20.00 each, 6 for $100 or 13 for $200 for individuals only.  There is no limit as to the number of tickets that can be sold to one person. Tickets can be paid for by cash, check, credit card or debit card. Checks are to be made payable to Angel Flight Southeast. Preferred payment in online at www.AngelFlightSE.org  Max of 5,000 tickets can be sold.
3.     Must be at least 13 years of age or older at the time of entry to be eligible to win.  Ages under 18 must have parent permission to enter and have a parent present at time of flight and give parental permission on paper.  Winner age 13-17 forfeits winning if this requirement cannot be met.  Winners need not be present at drawing.
4.     Raffle starts on January 1, 2014 and ends on April 5, 2014 at 12:30 pm. Tickets will be sold through April 5, 2014 or until a 5,000 ticket maximum is reached, whichever occurs first.  If 5,000 tickets are sold before deadline, a new draw date will be decided on by raffle staff.
5.     Prizes must be claimed within 30 days of notification. Should any prize not be claimed within the 30 days, it will then be forfeited to Angel Flight Southeast.
6.     Angel Flight Southeast and Stallion 51 employees and immediate family members of are not eligible to participate in or win the raffle.
7.     Winner will be drawn at random on April 5, 2014, pending sell-out of tickets. Winner need not be present to win. Winner will be notified via phone or email.
8.     Upon entering raffle, all sales are final and non-refundable.
9.     Only one person's name may appear on entry per ticket.
10.  Each entrant's names will be placed in the drawing box for possible selection. Those with multiple entries will have their name entered multiple times.
11.  Driver's license or other acceptable form of identification must be presented before claiming any prize.
12.  Purchasers, by participating (and the winner, by accepting the prize) release Angel Flight Southeast and Stallion 51 employees and their respective partners, vendors, agents, representatives, board members, sponsors, service agencies and independent contractors, and each of their respective directors, officers, partners, employees and agents, including advertising and promotion agencies, from any and all liability with respect to participation in the raffle and possession or use of the prize awarded and also acknowledge that they did not receive any representations, warranty or guarantee, express or implied, in fact or in law, relative to the prize, including but not limited to its quality, mechanical condition or fitness. In the case of any dispute, the decision of Angel Flight Southeast shall be final.
13.  Void where prohibited. The goal of this raffle is to raise funds for charity. No purchase necessary to win.
14.  Winning flight will take place with Stallion 51 and winner must complete their standard paperwork and waivers in order to take flight.
15.  Winner releases Angel Flight Southeast from all responsibilities related to flight of aircraft, which is operated by Stallion 51.
16.  The winner needs to be at least 5"2" and no more than 6'5" tall, no more than 270 pounds and a minimum of 13 years old.  Under the age of 18 must be accompanied by a parent and have signed parental consent. The winner must also be healthy enough to participate in the flight. The winner will have 1 year to schedule their flight with Stallion 51.
17.  Winners located more than 500 nautical miles from Orlando Airport, Florida, if requested, can be provided round trip airfare by Angel Flight Southeast, up to $500.  All final flight arrangements must be approved by Angel Flight Southeast in writing.  If the winner gives P-51 flight to a person ages 13-17, a parent must accompany them and if airfare if needed, the additional ticket shall be supplied by the winner. It is requested that winner provides their own way to flight location to increase the overall amount of funds raised, but if needed, round trip assistance can be requested.
18.  Winning flight will take place at Kissimmee Airport, Florida
19.  Proceeds of the raffle are for the benefit of Angel Flight Southeast, which is a nonprofit organization registered with the State of Florida. All net proceeds will be used towards the overall mission of coordinating free air transportation for children and adults with medical or compelling humanitarian needs. Main facility address: 8864 Airport Blvd.Leesburg, FL34788. 352-326-0761