In the News
Telemundo Miami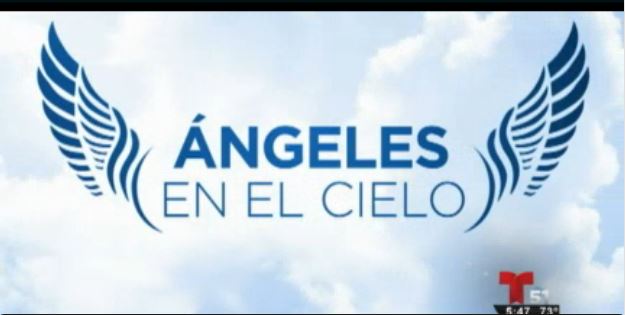 FCS Spring 2015
Leesburg Fla. (May 21, 2014) – As they often do the frantic calls came in the middle of the night to Fred Cutting, of Clearwater, and David Trilling, ¬of Lutz. Last week, the volunteer pilots with Angel Flight Southeast (http://www.AngelFlightSE.org) were enlisted to transport two prospective Tampa Bay area transplant recipients to Miami for life-saving organ transplants "It's unusual to receive two back-to-back requests for transportation of transplant patients in one week," said Steve Purello, CEO of Angel Flight Southeast. "What made last week even more exciting is that both patients were bagies." The first call came early Monday, May 12 on behalf of Desmond Creary of Clearwater. The nine-month old boy was placed on the transplant wait list for a new liver after becoming ill last November. Fred Cutting was the pilot who scrambled to ready his personal plane and fly Desmond and his mother, Charmaine, to Jackson Memorial Hospital in Miami. Unfortunately, the little boy did not receive the potentially life-saving organ as another patient was deemed a better match. This was the fourth time the Creary's made the stressful trip in hopes of having the procedure and was turned away. On Tuesday, May 13, Angel Flight Southeast went to its list of volunteer pilots in the Tampa Bay area again after receiving a plea for a second emergency flight. This time 15 month-old Caleb Hall, of Clearwater, was in line for a transplant operation at the same Miami hospital and David Trilling answered the call to transport precious cargo safely within hours. "Caleb's transplant has been successful!!!!!!! We are all done as of early this morning," wrote Tim Hall, Caleb's father, in a follow-up e-mail sent to Angel Flight Southeast on May 14th. "God bless that pilot! He was wonderful!!!" ¬¬ After the excitement of bringing one anxious family to a long-anticipated and ultimately successful appointment, Trilling was in the position to transport the disappointed Creary family back home. "It certainly has been bittersweet knowing one patient is on the road to recovery while the other youngster is still desperately in need of medical attention and other assistance," said Trilling. "I know that when his mother receives that ever important call, there are a number of Angel Flight Southeast pilots, including myself, who will be ready to drop everything to deliver Desmond in time to receive the new organ." Trilling and Cutting are two of more than 650 volunteer pilots in the Southeast who donate their time, personal aircraft and fuel to Angel Flight Southeast passengers. Trilling was named the 2013 "Pilot of the Year" for the Central Florida West region last fall. Caleb's was Trilling's third transplant flight in the seven years he's been flying on behalf of Angel Flight Southeast. -more- For information about Angel Flight Southeast, please call 352-326-0761 or visit http://www.angelflightse.org. About Angel Flight Southeast Angel Flight Southeast, Inc. is a non-profit volunteer pilot organization that provides free air transportation throughout Florida by private aircraft to distant medical facilities when commercial air service is not available, impractical or simply not affordable. Angel Flight Southeast is a member of Air Charity Network, an association of charitable aviation organizations comprised of more than 7,500 pilots and who represent over 90% of all charitable non-emergency flights flown in the nation. Angel Flight Southeast has won the seal of approval from Independent Charities of America recognizing Angel Flight Southeast as a good steward of the funds it generates from the public. ### Media Contact Nanci Schwartz The CommConnection, Inc. (305) 788-8256 nanci@thecommconnection.com
Run for the Angels 5K slated March 12, 2013 by General Aviation News Staff Leave a Comment The second annual Run for the Angels 5K will take place April 5 at Orlando Executive Airport (ORL) in Florida. All proceeds will benefit Angel Flight Southeast, which, for more than 25 years, has been providing free air transportation for children and adults with medical or humanitarian needs. Runners and walkers will travel 3.1 miles down taxiways, a runway, through hangars with water stations, and around many types of airplanes and helicopters. "This is your chance for an extremely unique experience to view Central Florida's favorite airport up close and personal," organizers note. Participants will receive a race t-shirt, a goodie bag, and access to a static display of airplanes, a helicopter, fire trucks, and many other vehicles. Several vendors and sponsors will have booths and tents set up. There will be music and food available to purchase. All sales will go to support Angel Flight Southeast. Angel Flight Southeast is an IRS 501(c)(3) organization of more than 650 volunteer pilots who use their own aircraft, fuel and time to provide free air transportation to medical facilities for citizens who are financially distressed or otherwise unable to travel on public transportation. Angel Flight Southeast also coordinates missions to fly organ transplant candidates, people involved in clinical trials, chemotherapy or other repetitive treatment, victims of abuse seeking relocation, families receiving help from Ronald McDonald Houses, Shriners Hospitals and many other charities, disabled or sick children to special summer camp programs, and for many other humanitarian reasons. Angel Flight Southeast and its group of all volunteer pilots fly over 1,500 missions per year. For more information: AngelFlightSE.org
Leesburg Fla. (November XX, 2013) – David Walker, an Angel Flight Southeast (http://www.angelflightse.org) volunteer pilot since 2004, has been named the 2013 "Pilot of the Year" for the Central Florida East region. The "Pilot of the Year" honor is based on 14 criteria that include flying and sometimes feeding sick passengers, answering last minute transportation requests that may come in the middle of the night, and having a positive attitude. Walker, who resides in Ocala, is one of more than 650 volunteer pilots in the Southeast who donate their time, personal aircraft and fuel to Angel Flight Southeast passengers. Walker was honored at the Angel Flight Southeast Pilot Awards Gala held in Leesburg, Florida on Sunday, November 10th. "David exemplifies the dedication of our Angel Flight Pilots who are so generous in their efforts to ensure a passenger receives the necessary medical care they need," said Steve Purello, volunteer pilot and CEO of Angel Flight Southeast which is based in Leesburg, Florida. For information about Angel Flight Southeast, please call 352-326-0761 or visit http://www.angelflightse.org. About Angel Flight Southeast Angel Flight Southeast, Inc. is a non-profit volunteer pilot organization that provides free air transportation throughout Florida by private aircraft to distant medical facilities when commercial air service is not available, impractical or simply not affordable. Angel Flight Southeast is a member of Air Charity Network, an association of charitable aviation organizations comprised of more than 7,500 pilots and who represent over 90% of all charitable non-emergency flights flown in the nation. Angel Flight Southeast has won the seal of approval from Independent Charities of America recognizing Angel Flight Southeast as a good steward of the funds it generates from the public. ### Media Contact Nanci Schwartz The CommConnection, Inc. (305) 788-8256 nanci@thecommconnection.com
Leesburg Fla. (November 2013) – David Rivero, an Angel Flight Southeast (http://www.angelflightse.org) volunteer pilot since 2012, has been named the 2013 "Pilot of the Year" for the South Florida region. The "Pilot of the Year" honor is based on 14 criteria that include flying and sometimes feeding sick passengers, answering last minute transportation requests that may come in the middle of the night, and having a positive attitude. Rivero, who resides in Kendall, is one of more than 650 volunteer pilots in the Southeast who donate their time, personal aircraft and fuel to Angel Flight Southeast passengers. Rivero was honored at the Angel Flight Southeast Pilot Awards Gala held in Leesburg, Florida on Sunday, November 10th. Last year, he was named the 2012 "Rookie of the Year" as a relatively new pilot volunteering for the organization. "David exemplifies the dedication of our Angel Flight Pilots who are so generous in their efforts to ensure a passenger receives the necessary medical care they need," said Steve Purello, volunteer pilot and CEO of Angel Flight Southeast which is based in Leesburg, Florida. For information about Angel Flight Southeast, please call 352-326-0761 or visit http://www.angelflightse.org. About Angel Flight Southeast Angel Flight Southeast, Inc. is a non-profit volunteer pilot organization that provides free air transportation throughout Florida by private aircraft to distant medical facilities when commercial air service is not available, impractical or simply not affordable. Angel Flight Southeast is a member of Air Charity Network, an association of charitable aviation organizations comprised of more than 7,500 pilots and who represent over 90% of all charitable non-emergency flights flown in the nation. Angel Flight Southeast has won the seal of approval from Independent Charities of America recognizing Angel Flight Southeast as a good steward of the funds it generates from the public. ### Media Contact Nanci Schwartz The CommConnection, Inc. (305) 788-8256 nanci@thecommconnection.com
Leesburg Fla. (November 2013) – David M. Trilling, an Angel Flight Southeast (http://www.angelflightse.org) volunteer pilot since 2007 who resides in Lutz, has been named the 2013 "Pilot of the Year" for the Central Florida West region. The "Pilot of the Year" honor is based on 14 criteria that include flying and sometimes feeding sick passengers, answering last minute transportation requests that may come in the middle of the night, and having a positive attitude. John Hanselman, of Odessa, received the "Rookie of the Year" and the "Above & Beyond" Award competing against pilots across the Southeast. Hanselman, who started flying for Angel Flight Southeast in late 2012 and was also nominated for "Pilot of the Year," was honored because of his efforts to raise money for the charity which arranges flights for patients who need to get to life-saving medical appointments that otherwise would be too far away or too costly. Harvey Moore, of Temple Terrace, received the "Transplant" Award for his extreme dedication and readiness to fly a transplant patient to receive his or her new organ on a moment's notice. Moore, who was also nominated for "Pilot of the Year" and "Above & Beyond," flew two transplant missions this year. Trilling, Moore and Hanselman are three of more than 650 volunteer pilots in the Southeast who donate their time, personal aircraft and fuel to Angel Flight Southeast passengers. The men were honored at the Angel Flight Southeast Pilot Awards Gala held in Leesburg, Florida on Sunday, November 10th. "David, John and Harvey exemplify the dedication of our Angel Flight Southeast Pilots who are so generous in their efforts to ensure a passenger receives the necessary medical care they need," said Steve Purello, volunteer pilot and CEO of Angel Flight Southeast which is based in Leesburg, Florida. For information about Angel Flight Southeast, please call 352-326-0761 or visit http://www.angelflightse.org. About Angel Flight Southeast Angel Flight Southeast, Inc. is a non-profit volunteer pilot organization that provides free air transportation throughout Florida by private aircraft to distant medical facilities when commercial air service is not available, impractical or simply not affordable. Angel Flight Southeast is a member of Air Charity Network, an association of charitable aviation organizations comprised of more than 7,500 pilots and who represent over 90% of all charitable non-emergency flights flown in the nation. Angel Flight Southeast has won the seal of approval from Independent Charities of America recognizing Angel Flight Southeast as a good steward of the funds it generates from the public. ### Media Contact Nanci Schwartz The CommConnection, Inc. (305) 788-8256 nanci@thecommconnection.com
We recently had an interview with Obie Young, Obie S. Young, President of the National Aviation Safety Foundation Angel Flight on the radio and Florida Aviation Network Producer. Obie is involved in promoting Aviation and Aviation Safety through Television and Radio over the airwaves and via the internet.
Listen to the National Aviation Safety Foundation radio interview here
PlaneViz will donate $5,000 in listing fees to support Angel Flight Southeast in their mission to provide free air transportation for children and adults with medical or humanitarian needs. FOR IMMEDIATE RELEASE PlaneViz – Angel Flight Southeast Angel Flight Southeast, a provider of free air transportation to individuals with medical or humanitarian needs has been chosen byPlaneViz, an aircraft classifieds website and aviation blog, to raise $5,000 towards its charitable 24/7 operation. "We are very excited to be sponsored by PlaneViz," says Angel Flight Southeast CEO and Volunteer Pilot, Steve Purello. "Our organization depends entirely on the support of donors and volunteers. The funds raised through our partnership with PlaneViz will allow us to continue our critical mission" Through the partnership, PlaneViz will donate the first month's listing fee of each classified ad to Angel Flight Southeast. The program will run for at least six months or until achieving the $5,000 goal. "Fundraising is an ongoing challenge faced by smaller not-for-profit organizations" said Dave Goodwin, PlaneViz' founder. "We are pleased to support an organization that uses general aviation to help people in need." For over 29 years, Angel Flight Southeast has been coordinating free air transportation for children and adults with medical or compelling humanitarian needs. The group averages 3,000 missions per year in the six southeast states with the support of 650 pilots and 300 volunteers. PlaneViz, with its distinctive, aviation pin-up art logo, classified ads, and aviation blog, was launched earlier this year. The site offers aircraft sellers a venue to showcase their aircraft to local buyers as well as to global aircraft shoppers. "Our goal is to add 250 to 500 aircraft to the site to raise $5,000 for Angel Flight Southeast," Goodwin said. "By purchasing a $10 or $20 upgrade to the standard, free listing, aircraft sellers get exposure on our home page, help support people in need, and promote general aviation; everyone wins." About PlaneViz™ PlaneViz is an aircraft classifieds website used by individuals and brokers to showcase aircraft for sale to aircraft shoppers worldwide. PlaneViz provides a clean, search-based interface and tools for easy listing and ad management. PlaneViz offers aircraft sellers both free and paid listings designed to match sellers' aircraft advertising needs. For more information on PlaneViz please call (904) 419-8260 or visit http://www.planeviz.com About Angel Flight™ Southeast Angel Flight Southeast, Inc. is a 501(c)(3) non-profit volunteer pilot organization involved in "public benefit flying." The organization provides a variety of services to the community, but mostly arranges free air transportation by private aircraft to distant medical facilities when commercial service is not available, impractical or simply not affordable. The organization has won the seal of approval from Independent Charities of America. This prestigious national organization recognizes Angel Flight Southeast as a good steward of the funds it generates from the public. Angel Flight™ Southeast is a member of Air Charity Network™. For more information on Angel Flight Southeast please call (352) 326-0761 or visit http://www.angelflightse.org
Published: Sunday, June 24, 2012 Koch, William LEESBURG Special to the Daily Commercial The Greater Miami Chamber of Commerce chose Angel Flight Southeast (AFSE) as the winner of its 2012 Healthcare for Heroes award in the institution/program category. More than 500 people attended the recent chamber's awards luncheon. Angel Flight Southeast arranges free air transportation by private aircraft to distant medical facilities when commercial service is impractical or simply too expensive. This nonprofit organization is comprised of volunteer pilots who donate their time, planes and pay for all patient flight expenses out of their own pockets. Upon accepting the award, AFSE President and Leesburg resident Steve Purello said, "On behalf of Angel Flight Southeast, I am thrilled to receive this and want to give a very special thanks to South Florida Wing Leader, Mark Mirin, who applied for the nomination, created a video, conducted the interview and never lost hope that we would win." The Healthcare for Heroes award recognizes the actions of individuals, institutions and programs that make an extraordinary impact in the South Florida healthcare community. According the chamber, Angel Flight Southeast's acts of heroism represented a display of dedication to excellence, beyond the scope of the profession. Mary Webb, a retired pilot, founded Angel Flight Southeast in the early 1980s. It stemmed from the American Medical Support Flight Team. Today, AFSE proudly serves the state of Florida and also acts as a member of the Air Charity Network, an association of charitable aviation organizations comprised of more than 7,000 pilots. For information go to http://www.angelflightse.org/.
When patients need transportation for chemotherapy treatments, abuse victims need to be relocated, or organs need to be flown to a hospital to be used in life-saving surgeries, volunteer pilots from Angel Flight Southeast often step in. The organization helps those who are financially distressed or can't travel by other means of transportation to get to the medical care they need. Angel Flight Southeast was recognized recently with the 2012 Healthcare for Heroes Award in the Institution/Program category by the Greater Miami Chamber of Commerce. More than 650 pilots are members of the nonprofit organization and volunteer their time, aircraft, and fuel to fly patients. Each year, those pilots fly a total of 1,500 missions in the Southeast. Missions are limited to within 1,000 miles of the patient's home airport, with pilots flying legs up to 300 miles before transferring the patient to another volunteer pilot. According to the Greater Miami Chamber of Commerce, "The awards program honored individuals, institutions, professionals, students, volunteers and programs who through their individual or collective actions have made an extraordinary impact in the South Florida health care community."
 Angel Flight Southeast CEO Steve Purello is selling 20 limited edition prints on canvas by artist Thomas Kinkade, ranging 16 x 20 to 28 x 42-inch in size, at half retail price, from $200 to $1000 to benefit Angel Flight Southeast. Contact him at Angel Flight for a list of art for sale.
Steve Purello, CEO of Angel Flight Southeast has flown for 20 years and volunteered with Angel Flight for 15 years, originally with Angel Flight Northeast based in New York. Angel Flight provides free transportation for medical or compelling humanitarian needs. The group averages 3,000 missions a year in the six southeast states with the support of 650 pilots and 300 volunteers. The southeast region based in Leesburg in Lake County, Fla. "I flew 25 missions last year in my 182 Cessna Skylane, which sounds like a lot but there are still missions to fill. In five weeks we did four transplant missions. One was for an 8-year-old girl we flew from Jacksonville to Miami for a liver transplant. We have to get the organ and patient together in three hours so it's imperative we are prepared to fly," said Purello. He said anyone can participate by donating a $1 per mile donation to Mercy Miles. Donors can choose from 90 days of missions, adopt a mission that appeals to them, and watch the mission online help those in need. "We help all kinds of people. There are little kids. Sadly some people pass away. One veteran turned 95 while in the V.A. hospital in West Palm Beach. He had been a pilot so really appreciated what we did for him. I surf with one veteran who used our services who is legally blind," said Purello. Angel Flight also transports abuse victims, which falls under the humanitarian category. "We got a call from a woman who was in danger and needed to be transported up north. We flew her to Angel Flight Mid Atlantic, which took her to Angel Flight Northeast and they delivered her safely to her family in Boston. The regions work together on the longer missions," added Purello. He said after the Jan. 2010 earthquake in Haiti, they spent an intense three weeks at Sanford airport flying U.S. citizens who had been trapped in Haiti. From Sanford, they flew them to various places in the U.S. He added for the 2005 Hurricane Katrina, Angel Flight did 1,500 missions alone for that emergency situation. "After a hurricane or earthquake, Angel Flight partners with Homeland Security and we are the first aircraft in after the military, even before the media," said Purello. For fun, Purello enjoys spear fishing off Key West. As a man of many interests, he's also a serial entrepreneur who has owned and sold art galleries, was the CEO of Workstream a publicly traded software company, and now is building Meal Mobs, Inc. based in New York which helps restaurants promote through loyalty programs. Meal Mobs is operating in two test markets now with nationwide expansion being planned. (www.mealmobs.com)
Always seeking ways to combine his interests and passionately support the community, Purello is selling remaining inventory from his framing and art galleries in malls in New York to benefit Angel Flight Southeast. He's selling 20 limited edition prints on canvas by artist Thomas Kinkaid, ranging 16 x 20 to 28 x 42-inch in size, at half retail price, from $200 to $1000. Contact him at Angel Flight for a list of art for sale. CONTACT www.angelflightse.com 352-326-0761
By Karen McBride Angel Flight is part of the Air Charity Network and is known as Mercy Flight in Louisiana, Alabama, Mississippi, Georgia and South Carolina. The organization has been around for 27 years. Steve Purello, CEO and Chairman of Angel Flight Southeast, had been an Angel Flight Northeast pilot for more than six years before moving to Florida. He had learned about it from a brochure left at one of the airports he would frequent. He was pleased to find out there was an Angel Flight Southeast, so that he could continue with his volunteer work. "It makes you feel good to help someone in need," says Purello. Airports all over Florida are used. Tampa Executive is the primary airport in our area. Recently, a military veteran, who had vision problems, was flown from Tampa to a VA hospital in West Palm for treatment. In addition to medical assistance, classes are held at the facility to teach sight impaired veterans how to live in a sightless world. Last month, Angel Flight SE volunteers were at Peter O. Knight airport. An infant needed to be transported to a hospital in Miami for a liver transplant. Another patient with a severe blood disorder was flown from Dustin to All Children's hospital. Pilots with 250 PIC hours are encouraged to apply to be a volunteer. In addition to helping people get to their medical appointments, Angel Flight SE helps during times of disaster. Working under a special agreement with the U.S. government and the Corporation for National and Community Service, Angel Flight pilots completed hundreds of missions after 9/11, and hurricanes Katrina and Andrew. The missions included transporting personnel and small cargo. Thirty seven trips have been made to the Bahamas, transporting volunteers to aid Bahamas Habitat, an organization that provides housing to people in need. The Tampa Bay Area Wing holds its monthly meeting at The Hangar Restaurant, Albert Whitted Airport, 540 1st Street SE, in St. Petersburg, FL (KSPG) on the third Wednesday of every month from 6:30 pm-8:30 pm. In November Bill Shivers held a program on Upset Recognition and Recovery and discussed reinvigorating the Tampa Bay Area Wing. Mr. Shivers can be reached at 727-385-9942 or via email: wnshivers@aol.com. In addition to pilots, ground volunteers, called Earth Angels, are vital to the success of this organization. Driving patients to/from the airport (or hospital) are among their many responsibilities. Contacting hospitals to send out brochures, coordinating missions and making presentations at meetings to let people know what they are doing and to encourage volunteers to join them in their efforts are key to the continued success of this special organization. Tampa Wing Leader, Bill Shivers has been a volunteer pilot for the past 6 years. "Volunteers are so important to the success of the missions. We can't help if caregivers don't know about Angel Flight," says Shivers. Patients learn about Angel Flight Southeast through the hospital's social workers. In order to qualify for the free air transport, patients must show that the distance to the medical facility is too far to drive, and show a financial need to eliminate the ability to take a commercial flight. Patients must be able to sit upright during the flight. "Another major benefit from using Angel Flight is that patients can have oxygen tanks, and you can't have them on commercial flights", said Shivers. Families receiving help from Ronald McDonald charities or Shriners Hospital are also eligible. This organization is funded by donations and a vast majority of those donations are from the pilots themselves. These men and women not only volunteer their time, but donate the use of their airplanes, including fuel. For every $1 donated, they give $5 in services, which is unlike other organizations, where it is usually pennies on the dollar. Unfortunately, this program is not funded by the government, so donations are needed to keep this organization going. People can go online to www.mercymiles.org and donate to a specific mission. Missions scheduled over the next 90 days. Choose a mission and the number of miles and donate $1 per mile. On the day of the flight, you can see the mission in real time (when the plane takes off and when it lands). Fund raising events are held, such as the Texas Hold'em tournament that was held in November. This professional poker style tournament was very successful. Tickets were $60 which included $40 in player's chips. Another card playing event and a golf tournament are in the planning stages to be held in the Tampa area. At the time of this publication, the venues had not been confirmed, so be sure to check the website for details. Most missions come from the facilitators at the hospitals, American Cancer Society, American Heart Association, Make-A-Wish Foundation, Alisa Ann Ruch Burn Foundation. Referrals are received from Corporate Angel Network and AirLifeLine. Flights must be scheduled 5 working days in advance. Emergency flights may be scheduled with less than 5 days for transplant recipients, but must be made by the Transplant Coordinator. Patients in need of medical care are not the only ones who need Angel Flight Southeast. Victims of abuse have used their services to relocate. Angel Flight Southeast has over 650 volunteer pilots that have clocked over 1,500 missions per year. Whether you are in need of transportation to get medical assistance, help during a disaster, or need volunteers to build homes for the less fortunate, it is good to know there truly are angels on earth, and in the sky. For more information, go to www.angelflightse.org or call 800-352-4256.
Posted: Sunday, December 11, 2011 8:00 am By Jessica Greene, Daily Sun THE VILLAGES — Thanks to Angel Flight and a special VA program, Village of Del Mar resident and World War II veteran Dick Egan touched a passion and celebrated two milestones this past Tuesday. Just after 4 p.m. he stepped out of Steve Purello's Cessna Skyline and was welcomed by a group of friends and family, as well as his dog Max. Egan's adventure actually started five weeks earlier when he was flown free of charge to the West Palm Beach Veterans Affairs Medical Center. During his stay there, Egan participated in the facility's blind rehabilitation program. http://www.thevillagesdailysun.com/news/villages/article_2236b802-247c-11e1-9b1a-001871e3ce6c.html Seeing isn't always believing The West Palm Beach VA Hospital has helped visually impaired vets adjust to life without sight for the past 11 years. A 15-bed wing, located on the seventh floor of the gigantic facility, reteaches patients like Egan to get dressed, shop, cook, take care of laundry and even operate woodshop tools. "The goal is to build up their self-esteem so they can live a quality life," said Zaskia Diaz-Marrero, chief of Blind Rehab Services for the West Palm Beach Veterans Affairs Medical Center. "Basically, the only thing a visually impaired person cannot do is drive," she added while standing at the center of a woodshop. Here, she explained, participants use saws and other tools to create a picture frame that is later used to hold the certificate they receive for completing the program. The room is just one of many designed to help visually impaired veterans keep their independence by demonstrating their capabilities without sight. In addition to the woodshop, a laundry room and a kitchen, the blind rehab wing houses a study where patients learn to operate new technology that allows them to read books, use the computer, scanners and more. In the hall just outside the woodshop, a man with dark sunglasses hesitantly navigated the walkway as visitors, nurses and staff hustled around. But he wasn't alone. Just a few paces away, one of the facility's mobility instructors offered guidance and words of encouragement. Just around the corner in the dorm-like room where he stayed for the past five weeks, Egan anxiously awaited his ride home. "I feel this is a great place," Egan said as his mobility instructor Karen Lyman helped him gather his bags. "You get one-on-one instruction here — you're not in a class with 15 other people. I'm very pleased with the people who work here," he said. As he walked past the large reception area on his way to the elevator, staff members bid him pleasant goodbyes and wished him well. Last fiscal year the center catered to the needs of 153 veterans, and sent them home with an array of tools to make their life easier. However, Diaz-Marrero said the VA has help when it comes to making life easier for visually impaired vets. "We would not be able to have that many patients if it wasn't for Angel Flight," she said. Last year, 56 of the 153 patients the center served were transported there at no charge by Angel Flight. "People don't realize all the good Angel Flight does — these pilots volunteering their aircraft and their time," Egan said. Taking flight In fact, getting the word out is something at which Egan's pilot, Angel Flight CEO Steve Purello is working hard. Angel Flight Southeast provides free air transportation to medical facilities for those who qualify and is one of many charitable aviation organizations that make up the Air Charity Network. The most common service Angel Flight Southeast offers is transportation for cancer patients to and from chemo/radiation treatments that aren't within driving distance, Purello said, as he guided the plane through a thicket of clouds on the way back to Leesburg. Guided by instruments, Purello chatted with Egan — who relaxed in the plane's back seat — and Angel Flight volunteer Tom Rockwood, who joined the mission. Purello paused the conversation occasionally to focus on incoming communication from area control towers. Much like flying is the convergence of knowledge and skill, Angel Flight Southeast tends to many things all at once to make each mission a success. Recruiting pilots. Flying missions. Working with medical facilities. Fundraising and more. In fact, during the last four weeks, Angel Flight transported three organ-donor recipients to medical facilities within its six-state region; 53 others are waiting in the wings, and Angel Flight pilots are lined up to be on the ready at a moment's notice. "(Hospitals) basically say (to donor recipients), 'You have three hours to get here,'" Purello said. Angel Flight makes that happen. Last year the organization provided roughly $1 million in transportation services to people like Egan thanks to volunteer pilots who donate their time, aircraft and fuel. "Because of that, If you give us a dollar, we end up giving five dollars back," Purello said. Ongoing assistance The VA has 12 other blind rehabilitation centers like the West Palm Beach facility located throughout the United States. And while patients like Egan leave the facility after a few weeks, they don't leave the program. "We never drop the ball — once we have them, we don't let go," Diaz-Marrero said. Blind rehabilitation outpatient specialists visit the homes of each participant to help put in place some of the techniques that are taught at the center, such as placing sandpaper or other tactile indicators on appliance knobs, creating systems of organization for kitchen goods and more. In fact, any day now Egan will receive a package from the VA containing the specialized tools — such as a device that allows him to pour a drink without spilling, a knife that will cut meat and produce without cutting his skin, a closed-captioned television set — on which he was trained. The blind rehabilitation program is available to any visually impaired veteran who qualifies, Diaz-Marrero said. "If you have a visual impairment, contact your VIS coordinator — it's amazing what the VA can do for the visually impaired," she said. Egan would agree. "Any vet that has the opportunity to do this should take it," he said. Egan's vision started to wane significantly in 2000 due to macular degeneration. In 2005 Egan passed his Florida driver's license test conditionally. The next year he failed. Despite an earlier recommendation to attend the blind rehabilitation program, Egan didn't go immediately. "I held back because I thought I didn't need it — until I got here," he said. "People don't realize how much you depend on your sight until you don't have it." A warm welcome As a former general aviation pilot, even though Egan wasn't flying the plane himself, he enjoyed being skybound. On the trip home, among other things, Purello and Egan chatted about the changes local aviators have seen since the veteran began flying his plane out of Leesburg in 1977. "I sure miss it," Egan said of flying. One thing friends and family made sure Egan wouldn't miss, however, was the chance to celebrate his 95th birthday, which took place Nov 29 while he was away. After an hour and a half in the air, Purello set the plane gently down on the runway. "I think there are some people here who are expecting you," he said to Egan as he taxied the plane toward the airport's hangars. Then, armed with new skills and confidence, the World War II vet was off for a belated birthday party. Jessica Greene is a reporter with the Daily Sun. She can be reached at 753-1119, ext. 7759, orjessica.greene@thevillagesmedia.com
KISSIMMEE, FL – October XX, 2011 – James Jordan of Cocoa, Florida will be the envy of pilots everywhere today as he suits up for a one hour flight behind the controls of a vintage WWII era P-51 Mustang. Mr. Jordan won the once-in-a-lifetime experience as part of a raffle benefitting Angel Flight Southeast, a 27-year-old volunteer pilot organization that coordinates free air transportation for children and adults with medical or compelling humanitarian needs.
"This is a dream come true for me," said Mr. Jordan. "As a private pilot, I still believe the P-51 is one of the most beautiful and powerful airplanes to ever take to the skies. And as a volunteer pilot for Angel Flight Southeast, I am so proud to contribute to such an important organization."
Valued at $3,500 and donated by Stallion 51 Corporation, Angel Flight Southeast raffled off the P-51 Mustang "Crazy Horse" package at the AOPA Convention in Hartford, CT on September 23, 2011. The raffle was open to all conference attendees and raised $XX for Angel Flight Southeast.
The P-51 Mustang "Crazy Horse" package includes a day long experience at Stallion 51's operational headquarters in Kissimmee, Florida courtesy of Stallion 51 Corporation. It will feature pre-and-post-flight briefings, cockpit orientation, a one-hour hands-on orientation flight in a dual control cockpit P-51 Mustang, and video documentation of the entire flight.
About Mr. Jordan
James T. Jordan is an accomplished engineer of 32 years. For the majority of his career, he has worked as a defense contractor processing satellites for the United States Air Force at the Cape Canaveral Air Force Station. He has been a licensed private pilot for the past 20 years, and his flight experience includes 2,000 hours in aircraft ranging from Cessna 150s to Beechcraft Queen Airs. He is the proud owner of a 1975 Piper Cherokee Six that he uses for his volunteer work with Angel Flight Southeast. Mr. Jordan earned his B.S. in Physics from Jacksonville University and his B.S. in Mechanical Engineering from University of Florida.
About Angel Flight Southeast
Angel Flight Southeast has coordinated free general aviation flights for children, families and veterans in need of treatment at distant medical facilities for over 27 years. Funds raised support their mission and assist in coordinating over 3,000 free flights each year.
About Stallion 51 Corporation
Stallion 51 is a comprehensive aviation organization offering a wide range of services in historic aircraft including orientation flights in the legendary dual cockpit, dual control P-51 Mustang and historic T-6 Texan. Stallion 51 offers check-out and re-currency training, FAA Medical certification, aircraft sales and management. Stallion 51 has been a leader in WWII aviation for 25 years; bringing quality, safety, integrity and experience to aviation. For further information regarding Stallion 51 Corporation; contact KT Budde-Jones at 407-846-4400 or kt@stallion51.com
Media Contact:
Steve Purello
(352) 326-0761
Steve.Purello@MercyMail.org

For Immediate Release
Angel Flight™ Southeast launched it 1st Annual Aviation Charity Auction earlier this week, which is being held on the Ebay Charity Auction website. Dozens of aviation vendors stepped up to provide items for this first time event. Items donated span the spectrum from high end pilot headsets to left seat time in a McDonald Douglas DC-3. Examples of other items include GPS receivers, VHF radios, aviation flashlights, aircraft landing/taxi lights, seaplane rating vouchers, aviator sunglasses, aerial photography, aerobatic plane rides and front seat time in a World War II, 1941 open cockpit bi-plane Stearman made by Boeing. Items will have a seven day run time on Ebay from the date they are listed and 100% of the proceeds benefit Angel Flight™ Southeast. Items will continue to be listed for the next several days, and items are still being accepted for donation.
"Angel Flight™ Southeast coordinates free air transportation for children and adults with medical or compelling humanitarian needs" says Blake Mathis, President/CEO of the charity. "For over 26 years, we have been recruiting volunteer pilots who have a caring heart and want to help those in need by using general aviation to help", he added. Volunteer pilots donate their time, their planes and provide the fuel to get these families to distant medical specialists. Humanitarian missions are also approved by the operations staff located in Leesburg, Florida. Transporting victims from earthquakes, hurricanes and other natural disasters, as well as other non-medical flights such as assisting veterans, battered spouses and visually impaired passengers to get to and from a destination is also a part of our mission.
Angel Flight™ Southeast currently helps coordinates between 3000-4000 free missions each year for families in need. Funds raised assist in running the operations headquarters where a few staff members and dozens of volunteers take hundreds of calls weekly from families in need.
"The Online Aviation Charity Auction is a first of its kind for charity. We have been overwhelmed at the support we have received from the aviation vendor community who are willing to help", says Mathis. Items and corporate sponsors of the event can be located at the website, www.AngelFlightAuction.org Angel Flight™ Southeast, along with partner regions, which are all members of the Air Charity Network, cover the entire United States to provide transportation assistance for those in need. For more information about using the free service, or to learn how to become a volunteer, visit www.AngelFlightSE.org
Angel Flight™ Southeast Media/Corporate Contact:
352-326-0761
Info@MercyMail.org
1St Annual Online Aviation Charity Auction "Takes Off" for Angel Flight™ Southeast
www.AngelFlightAuction.org

Eleven month old Aubrey does. Her angels all wear aviation headsets.
When Aubrey was born her mom, Andrea, knew that something just wasn't quite right with her new little bundle of joy. After extensive internet research Andrea, a nurse, suspected Aubrey's misshapen head and severe neck tilting down and to the right was Plagiocephaly and Torticollis. Her pediatrician confirmed both conditions.
The good news was that both were treatable but required early intervention and weekly medical treatment. The pediatric physical therapist who works with Aubrey for the Torticollis is located in Tallahassee, only 90 miles away from Aubrey's home in the Florida panhandle. The cranial treatment specialists however, are located in Miami, 600 miles away. Weekly visits are needed to monitor Aubrey's use of a Doc Band to help reshape her head into a normal shape. That required a two day trip or expensive flight for Andrea and Aubrey and child care for Aubrey's three sisters.
After weeks of driving to Miami, Andrea, her 12 year old car and finances were exhausted. She again turned to the internet to research travel options. That's when Andrea found Aubrey's Angels …. Angel Flight Southeast, headquartered in Leesburg, FL.
Angel Flight Southeast is an IRS 501(c)(3) organization of more than 650 volunteer pilots who utilize their own aircraft, fuel and time to provide free air transportation to medical facilities for citizens who are financially distressed or otherwise unable to travel on public transportation. Angel Flight Southeast also coordinates missions to fly organ transplant candidates, people involved in clinical trials, chemotherapy or other repetitive treatment, victims of abuse seeking relocation, families receiving help from Ronald McDonald Houses, Shriners' Hospitals and many other charities, disabled or sick children to special summer camp programs, and for many other humanitarian reasons. Angel Flight Southeast and its group of all volunteer pilots fly over 1,500 missions per year.
Andrea said "The Angel Flight staff could not have been more helpful when I called to ask for assistance. The lead Care Traffic Controller, Kathy, immediately put me at ease. It was obvious she loved her job and wanted to help Aubrey."
Andrea explained that the volunteer pilots were committed to making her weekly trip to Miami a "day" trip. Her trips involved 4 sections or legs each trip. One leg is from Bonifay or surrounding airport to Leesburg, Leesburg to Miami, Miami to Leesburg and Leesburg to Bonifay. That one day commitment means most pilots leave their homes before daylight. Some as early as 5 am to fly to Bonifay. Andrea is lucky that her small rural town, located 55 miles north of Panama City Beach, has a fixed base operation.
"Aubrey's Angels have gone above and beyond the call of duty to meet our needs" said Andrea. "We have been blessed by their dedication and compassion."
Who are Aubrey's Angels?
David, a retired businessman, is Aubrey's primary angel. He treats Aubrey like she is his own Great Granddaughter. David flies many of the Leesburg to Miami and Miami to Leesburg legs. Dave doesn't hesitate to beg and cajole his friends and fellow pilots when another volunteer is needed to help complete Andrea's flight plan. Dave happily drives Andrea from the Miami International Airport to the Cranial Technology office. Andrea treats him to lunch at Arby's each week as a token of her appreciation and affection. Dave coos and talks to Aubrey throughout the lunch. Andrea is not sure who enjoys the visits more. It seems to be a draw.
David is just one of the growing band of Angels that have helped Aubrey achieve her remarkable progress. There was a mother and son team, Clare (an experienced corporate pilot) and Robert who were nervous to tell me this was their first Angel Flight, until after they delivered her to Leesburg.
Aubrey was also the first Angel Flight client flown by Jack, a business owner in Bonifay.
Then there are Dave & Ann, who live on a lake, fly a Moonie and Lake plane. They've flown Aubrey three times. They also volunteer their time in the Young Eagles program.
Bob, a retired flight instructor from Leesburg (a neighbor of Dave's) has flown Aubrey several times. Both Bob and Dave live in a "fly in" community in Ocala.
Steve, a construction company owner from Orlando, sent Aubrey a photographic memento of her trip. Then there's Bob #2, a pilot from Panama City and retired business owner. He graciously mailed Andrea a package with item left behind after a trip.
Mary, an entrepreneur from Panama City, learned that Andrea had to drive over an hour to the Panama City airport and offered to fly to Bonifay on their second trip together to eliminate some of Andrea's time away from her other 3 girls.
Andrea said the Angel Flight Southeast staff works tirelessly to help ensure her flights are booked each week. Not long ago one of the pilots had a last minute issue with this plane and could not fly. Steve Purello, the CEO of Angel Flight stepped in and left his home at 5 am to fly to Bonifay to pick up Aubrey and Andrea. Aubrey was pleased to see Steve's black Lab, Mitsy, on the plane. The 4-legged angel also had her own set of aviation ear defenders.
Andrea is thankful for all of those who have helped make Aubrey's medical treatment possible. "It would have been impossible for Aubrey to have attended her weekly treatments in Miami without the generosity of Angel Flights Southeast and their pilots. It is overwhelming when you realize how much each pilot donates to help the Angel Flight clients. The pilots donate their time, planes, maintenance and gas. And, on occasion they donate the expense of an overnight hotel stay in order to get their client to their medical appointment on time."
Aubrey's medical treatments will be drawing to an end within the next few months. Her doctors are thrilled with her progress and expect her to be at her developmental norm by the time she is fifteen months old. This includes full range of motion in her neck with normal vision and balance and a symmetrically shaped head.
Aubrey won't remember first hand all of her Angels but Mom Andrea will tell her the stories of all of those that helped her as she grows up.
"There is no way I could pay them back for their contributions. My goal is to help increase awareness to Angel Flight Southeast so others in my circumstances will know this wonderful organization exists. My mother and I hope to help with community outreach, letting social service organizations in NW Florida know that Angel Flight is actively recruiting volunteer pilots to help them reach the grown demand for their services. And, we hope to find grants or donations to help offset the pilots' gas expenses."
If you have clients who could benefit from this service or are a pilot that would like to help insure Angel Flight clients can get to their medical appointments, call Angel Flight's Care Traffic Controller at 800-352-4256 or visit www.angelflightse.org.
Angel in Our Midst – Segment on Channel 3 in Pensacola.
Angel Flight SE Mascot – Mitsy
Angel Flight Documentary – A short documentary about our organization, following the Tallahassee Wing Leader, RJ Reed. Produced by Christopher Amick.
Angel Flight Podcast – An iTunes podcast – After going to the link, click on the podcast named "Angel Flight Southeast with CEO Steve Purello".
Angel Flight Pilots Take Flight To Save Lives – See this news release and information.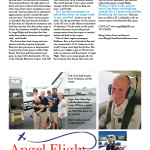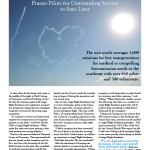 Angel Flight CEO Steve Purello Praises Pilots – Read page 1 of this news release by clicking on left page and then click on the right page to continue reading page 2.
Videos
Watch the videos below by clicking on the start icon in the pictures below or the associated links.
Fox Channel 28 WPGX Video
NBC Video
Watch this deeply moving Today Show segment with Katie Couric as she meets an Angel Flight pilot and passengers—a teenaged boy afflicted with an inoperable brain tumor and his tender-hearted father.
NBC's Today selected Angel Flight for a special "Who We Admire" series. Volunteer pilot Richard Love transported 14-year-old Mitchell and his father, Jack, to Memorial Sloan Kettering Cancer Center as their last best hope for treatment. Couric met them on the tarmac at the Teterboro airport near New York City for the interview. Sadly, Mitchell passed away a few weeks later.
"Angels in our midst"
Florida Aviation Network Interview with Steve Purello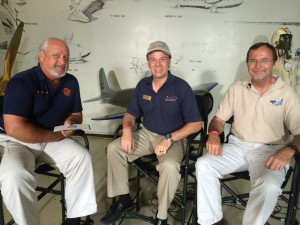 Click here to see the Florida Network Interview video.
Tampa's Bay 9 News interviews Fred Cutting after flying one of our transplant missions